It's pretty rare for a school event to draw a hundreds-strong crowd. But it's also rare for a school event to cater exclusively to fathers.
When St Therese Catholic Primary School Mascot decided to run a pizza and bingo night for dads and their kids in April, Kiki Kyriacou thought 300 tables would be too many.
By the end of the night, all the tables were full, and more had been set up as nearly 400 dads and kids streamed into the school hall to spend some quality time together.
"We thought we overcompensated," he said. "I actually said to the guys that I thought we'd have about 80 to 120."
"I was gobsmacked."
The event was led by a team of six called the Champion Dad group and overseen by The Fathering Project, a West-Australian initiative designed to help dads build their parenting skills.
The crowd ate their way through 110 pizzas, and kids were especially excited to be the ones to read out the bingo numbers for the crowd.
At the end of the night, everyone hit the dance floor.
"We got the girls to dance, we got the boys to dance, and then we got the dads to dance, which they begrudgingly did – the kids loved it," said Stewart McCarthy, leader of the Champion Dad Group and dad to Aidan (11), Flynn (9) and Imogen (7).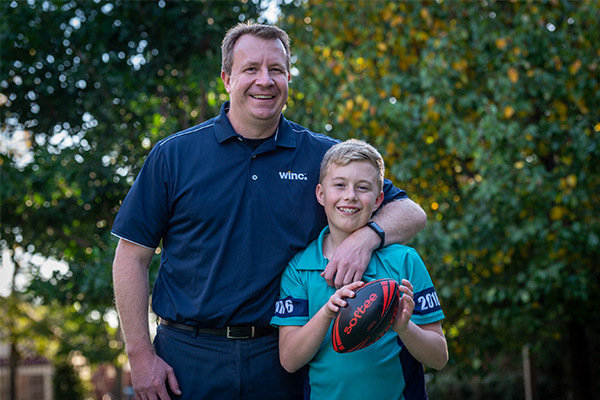 The importance of dads
The Fathering Project was founded by 2013 Western Australian of the Year Dr Bruce Robinson, who was inspired by his experience working with men at the end of their lives.
Mr Robinson found men's most common regrets centred around not spending enough time with their families when they were young – and research shows it's not just fathers who feel the impact.
The involvement of a dad, or a step dad or other male role model, has a statistically significant impact on a child's levels of risk-taking behaviour – especially once they're a teenager.
When a father or father figure isn't around rates of teen pregnancy and drug abuse rise, as does the risk that children will drop out of school or live in poverty.
New research shows that the impact on girls is especially significant. Experts found dads are better at estimating their daughter's confidence levels, including the way their self-image may drop as they reach adolescence.
I have strong sense of the importance of love and security in families
The Fathering Project aims to build parenting skills through both father-only events and activities for dads and kids to attend together.
The group urges organisers to keep things fun – in part because research shows it's important for kids to view their dads as warm and confident. There isn't always a lot of support or examples for dads on how to be vulnerable with their children, and without concrete plans to let loose and be silly traditional masculinity can get in the way.
"It's tough" said Mr McCarthy. "Guys traditionally are very protective of their feelings," he said.
"You don't actually sit down with a couple of blokes and say 'so, what do you talk about with your daughter.'"
Mr McCarthy first heard about the Fathering Project's research at a Parents and Friends meeting at St Therese, where Sean, a representative, presented.
"Some of the things just really resonated with me in respect to where kids go off of the straight and narrow, and how important it was statistically for a dad to be part of their development" said Mr McCarthy.
"So when Sean finished his presentation I went straight up and said 'Hey mate I'd be interested in being part of it'."
Sean's presence at the meeting wasn't a coincidence. He was invited by the school's boys' education committee and Principal Gabrielle McAnespie, who had been looking for a way to get dads more involved at the school.
Ms McAnespie first noticed a lack of engagement when examining why only half of the school's parent community were reading messages sent out using the communications portal Compass.
"We looked into it, and we found that those reading our communications were the women," she said.
Ms McAnespie spoke to a few dads, who said their wives read the notes, so they didn't feel the need to engage that way.
This gave the Principal pause, as she was convinced from her own life experience that dads had a big role to play in every aspect of a child's life – including life at school.
"I was very fortunate myself to have a fantastic dad," she said. "So I just have a very strong sense of the importance of love and security and support in families."
She began to include fathers in more of the school's co-curricular life, calling on dads to be the sole volunteers at a 2017 school walk-a-thon which fell on Father's Day.
"It put quite a different flavour on the day, having men doing all the jobs," she said.
Dads and kids agree there's a different energy when it's just them.
"Who's heard of a dads' only party, with kids?" said Joseph Luce, who has three sons.
"I think they feel like, almost cool, to be around a group of dads."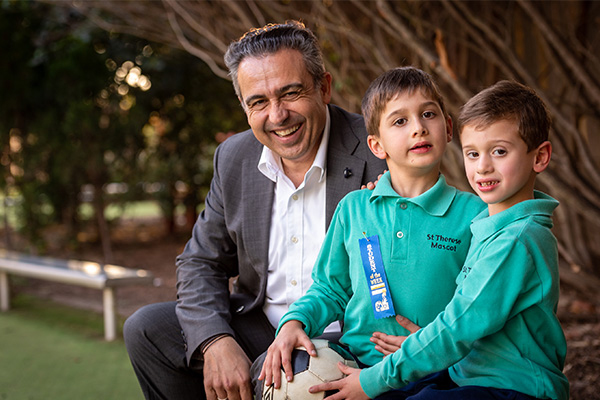 Building connections
Men can find it tough when they try to get involved at school. Invitations to help out are often targeted at mums, or kids and mums together.
Timing, tone and cultural expectations all contribute to kids associating mum with school, especially when they're younger. But getting fathers involved helps mums, who are often back in the workforce and time-poor, and helps de-mystify dads for their kids.
"To me, they spend so much time with mum," said Allan Micallef.
"Mum brought them up, she carried them for nine months – they know mum. But dad goes to work, comes home – they're forever trying to work dad out."
Mums have been key supporters of The Fathering Project, with many encouraging husbands or other important male role models to attend events alone or with their kids.
Several supported their separated partners to take their children along to the pizza and bingo night regardless of where it fell within custody arrangements, and a group of mums met up while the event was in progress to enjoy a wine and cheese night.
We've got to be present and enjoy it while we can
While building the bond between dads and their kids was a key driver for mums, they were also eager for their partners to be mingling with other dads. They recognised that many men don't have a strong network of friends and acquaintances among other parents – even though they would like to.
The Fathering Project team tackled this dad disconnect by beginning the project with a dads' only beer and barbecue night. Dads got together in October 2017 to hear a short talk on fathering and spend some time getting to know each other.
Several men said the amount of offers of help that came flowing in when the group were planning their bingo night was in part because of the connections built at this first event. Being specifically invited to be involved and knowing the organisers seemed to encourage dads to put aside busy work schedules.
Steven Micalizzi, dad to Marcus and Alexander, said it often felt like dads "couldn't do anything right," but that The Fathering Project had given them a community to go to for support, and helped him personally to be more involved and better informed.
"I just wanted to know who my son's friend's parents were," he said. "Now, if they say 'I'm going to go to Alexandra's house' that's no problem, because I already know her father."
Several dads added they now feel more involved in the academic as well as the social life of St Therese – and some admitted they'd now started to read the newsletters they used to leave for mum.
The school is currently planning its next dads' only event, with many fathers looking forward to carving out the time to be there.
For the organisers, the biggest focus is still on teaching dads how to get better at their "number one job."
"In a year from now these kids will be 13 or 14, and they won't want to know about us," said Mr McCarthy.
"We've got to be present and enjoy it while we can."